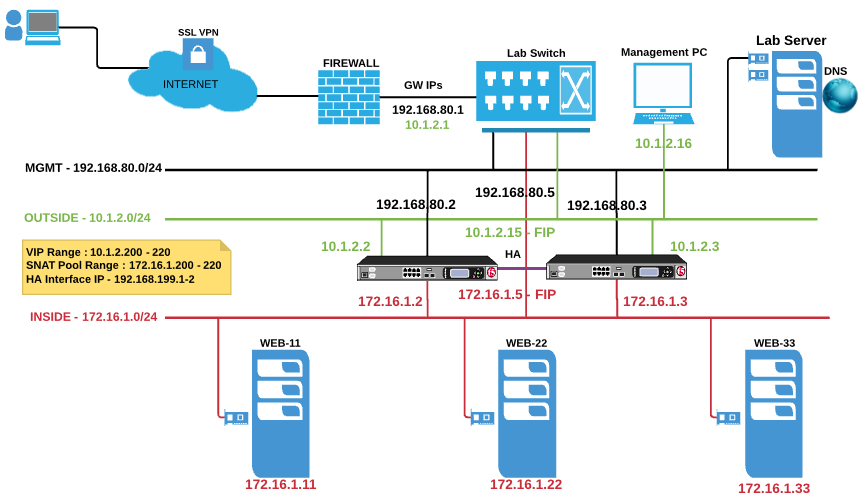 This F5 lab consists of 2x virtual appliances, with all modules available for configuration. It also includes 3x small webservers for testing the load balancer configuration. On this page you will find useful information about the lab devices, links, useful tutorials and troubleshooting information.
Appliances are already installed and licensed
IP address (Already configured on F5 Management Interface)- 192.168.80.2 on F5-1
And Managemnt IP on F5-2 is : 192.168.80.3, Common IP : 192.168.80.5 (this IP is not pre-configured)
Internal IP on F5s (Available in attached diagram)
Device FQDNs are already created on Lab DNS server (more info below)
For Creating Virtual IP on F5, please use IPs from this range shown in lab diagram (link shared on this page)
F5 appliance interfaces and VLAN info – Interface 1.1 is INSIDE interface and 1.2 is OUTSIDE, you can use any vlan number, but leave it untagged.
Services running on LAN servers – SSH, HTTP, HTTPS, FTP, TFTP
Websites are already setup and running on all 3 servers, accessible on TCP ports 80 & 443.
Servers are in isolated network and will not be reachable until F5 internal IPs are setup.
IP Address for webservers are available in network diagram below.
Webserver 1 is blue, webserver 2 is black & webserver3 is purple. (URLs in FQDN section below)
Different color of the servers make it easy to reflect load balancing actions by LTMs.
Other services if necessary can be deployed on webservers, please let us know if required.
Testing F5 VIP Configuration from Internet
IP address 10.1.2.200 (from VIP pool/range) is NATed and made accessible on ports 80 and 443 using following links :
https://proxy.testclue.com:3443
For above links to work, it is needed to setup nodes, pool and HTTP(s) VIP (10.1.2.200) on F5 appliance(s).
LTM
GTM
AFM
ASM
Version 13.x
Lab Information and Instructions :
If you have booked server time already please login to Lab Console below, credentials delivered via email used during booking. For booking new time slot,
click here
.
connect via above link, login with emailed user/pass
second level of authentication, as sent via email
list of devices will be available to connect – Windows pc, F5 BigIP-1, F5-BigIP-2
connect to Windows 7 pc from listed connections, connect as – labuser / Labroot12!@
F5 appliance login – GUI – admin/admin
F5 appliance login – CLI – admin / you will need to allow user admin to have CLI access via GUI first
Lab will be auto-destroyed after 10 minutes from end of session
Device FQDNs (all available from Windows 7 Lab PC) :
F5-BigIP-1 : f5bigip1.testclue.local
F5-BigIP-2 : f5bigip2.testclue.local
Web Server 1 : webserver1.testclue.local
Web Server 2 : webserver2.testclue.local
Web Server 3 : webserver3.testclue.local
IP Addressing for devices is available in network diagram
DNS Server – win2k12.testclue.local
Useful Links (for small-scale, lab-only deployment) :
To Discuss about F5 Configuration please this forum :
Issues During Lab Session
Please use live chat option on bottom right of this page. (In case no response within 5 mins, please use option below)
Red "Technical Support" button on top right hand corner of page is provided to open tickets and advance support.